Long life
Small separation point
Less blockage
Desander cyclone uses high chromium cast iron or pure polyurethane material, customers can choose independently. We can exchange it with an international brand.
The cyclone has long lifetime and light weight, and easy to maintain.
High separation ability and wide separation range. It can remove solid particles from 45 um to 1mm.
Cyclone underflow is pressurized umbrella "wet bottom" to quickly discharge the particles in the separation zone, reducing the blocking probability.
| | | | |
| --- | --- | --- | --- |
| Model | TRCS200-1S/2S | TRCS250-2S | TRCS300-1S/2S |
| Capacity | 60 / 120m³/h | 120 / 240m³/h | 140 / 280m³/h |
| Cyclone Specs | 8in(DN200) | 10in(DN250) | 12in(DN300) |
| Cyclone Qty | 1nos / 2nos | 1nos / 2nos | 1nos / 2nos |
| Working Pressure | 0.25-0.4mPa | 0.25-0.4mPa | 0.25-0.4mPa |
| Inlet Size | DN125mm | DN150mm | DN150mm |
| Outlet Size | DN150mm | DN200mm | DN200mm |
| Separation | 45um-75um | 45um-75um | 45um-75um |
| Bottom shaker | TRTS60 | TRTS60 | TRZS752 |
| Dimension | 1510X1160X2000 | 1510X1360X2250 | 1835X1230X1810 |
| Weight | 570kg / 620kg | 670kg / 760kg | 1380kg |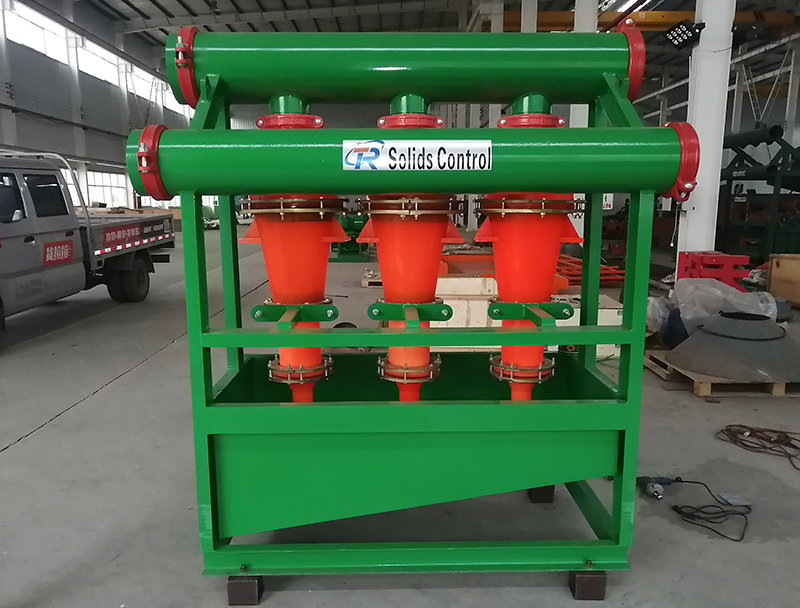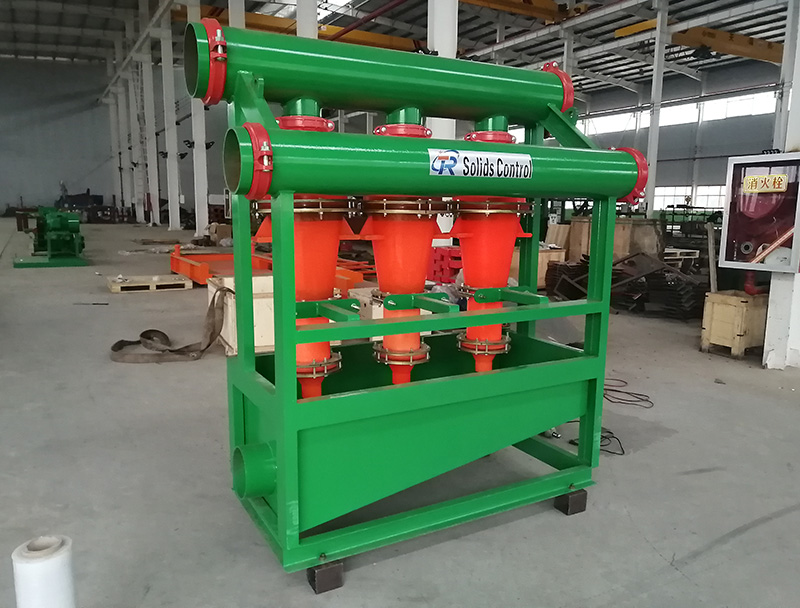 Mud Desander is the third piece of equipment in the mud recycling system. It is used after the drill fluid has already been treated under the mud shale shaker and mud degasser. It is used before many of the other mud cleaning equipment, including mud cleaner, desilter, and mud agitator. Desanders are a critical part of the treatment process that is utilized after the initial scalping shaker pass. The underflow will be recirculated over to the shaker if required. The objective is to remove solids particles that have missed out on previous treatments. After this treatment, the treated fluid is then moved to the next stage.Mud Desander also called drilling fluids Desander. It is composed of hydraulic desander hydrocyclone, shale shaker and cyclone pipe. Desander utilizes a number of hydro cyclones that process the solid particles using centrifugal force. Desander uses centrifugal pump to supply mud, then the mud flow into hydrocyclone along tangent of cyclone, and the mud's structure was destroyed under the action of centrifugal force. Under the action of gravity, solid particles along the inner wall sink spirally and was discharged from the bottom of cyclone then falls on the following shale shaker, liquid was discharged from the top of the cyclone. We are an exporter of drilling fluids desander. TR solids control is the designed, selling, production, service and delivery of mud Desander manufacturer. We will provide the high quality mud desanders and best service. Your best mud desanders start from TR solids control.